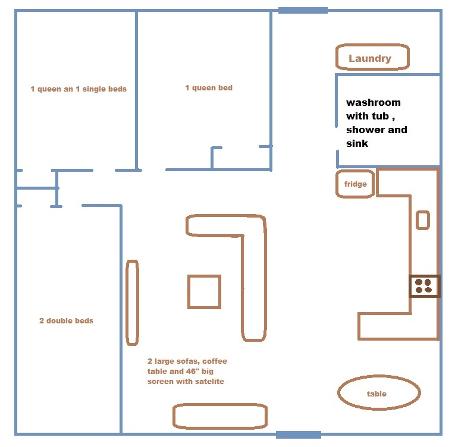 About the Mansion on Main
Your comfort is our goal. The Mansion on Main is nestled in the heart of McBride. This 1100 square foot accomodation is your home away from home. We are located on main street across from a great restaurant and along side of the local grocery store.
Our Amenities
The 3 bedroom, 5 bed suite features queen and double beds throughout, spacious living area for relaxing after a big day, full kitchenette, rustic locally built furniture, flat big screen television, laundry, boot dryers, large lockable fenced parking lot, and of course the outdoor 6 person hot tub. We can sleep 3 couples or 5 single people in their own beds. Wi-fi available. When you book with us, you book the entire property. Your own private get away. - contact us now
Why come to McBride?
McBride is situated in the beautiful Robson Valley. Outdoor enthusiasts can enjoy hiking, fishing, sightseeing, hunting, snowmobiling, back country skiing, boating, quading, mountain biking, and horseback riding. The opportunities are endless due to the diverse topography of this majestic region. Our friendly small town staff will help set up tours or special needs within the community and surrounding area.
So come enjoy the McBride experience, hang up your hat, put your feet up and take in the culture the village and the valley has to offer.
Rates
Peak season (Nov 1 till May 31st) Low season (June 1st till Oct 31st)
Based upon occupancy of 5.
Daily rate $ 200.00 / night $190.00/ night
Minimum 3 nights for reservations $ 190.00 / night $180.00 / night
weekly rate $ 170.00 / night $160.00 / night
Monthly rate Please contact us.
* We are a non smoking accomodation.
* $15.00 fee per night per person after 5 people.
* We accept Visa, Mastercard, Cash and EMT`s.
* There is a 72hr cancellation policy with a 20% fee. Within the 72 hrs a 50% fee applies to the entire reservation.
* Sorry no pets inside. There is the entire fenced back yard for pets.
* Check in time is 4:00 p.m and check out time 10:00 a.m. This can be negotiated.
* Subject to 5% GST. Our accomodation is PST exempt.
Contact us to book your stay or to ask questions.
Our friendly staff will be in contact with you ASAP.
CHECK US OUT ON FACEBOOK, search McBride mansion on main
McBride,

British Columbia

V0J2E0
All rights reserved
466 & main, McBride, British columbia |250 569 7406